Monteverde
Monteverde, Costa Rica is a small community in Puntarenas, Costa Rica, located in the Cordillera de Tilarán. Roughly a four-hour drive from the Central Valley, Monteverde is considered a major ecotourism destination in Costa Rica. The area is host to the Monteverde Cloud Forest Reserve and numerous other reserves, which draw considerable numbers of tourists and naturalists.
National Geographic has called the Monteverde Cloud Forest Biological Reserve "the jewel in the crown of cloud forestreserves". Newsweek has declared Monteverde the world's #14 "Place to Remember Before it Disappears". By popular vote in Costa Rica, Monteverde was enshrined as one of the Seven Natural Wonders of Costa Rica, along with Isla del Coco, Volcán Arenal, Cerro Chirripó, Río Celeste, Tortuguero, and Volcán Poás.
---
Top Attractions in Montevede Cloud Forest & Things to do.
Monteverde Cloud Forest Reserve

Zip Line canopy Tour

Hanging Bridges
---
Weather in Monteverde Cloud Forest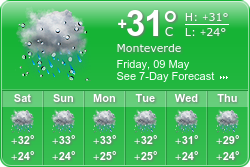 ---
Monteverde Cloud Forest | Hotels | Tours | Things to do | Attractions Weather Forecast
Costa Rica Rafting
Best Costa Rica Whitewater Rafting
Hanging Bridges Monteverde
Do you want to know the difference between each one of the hanging bridges in Monteverde, contact us for a full information  & offer  the best option for you.
Hikes
Book the best Cloud Forest Hikes in Monteverde, different options, Trails & Parks:Contact us for more information about the differences on each tour
Monteverde Hike Tours | Monteverde Walk Tours
Horseback Ride Arenal to Monteverde & Viceversa
Monteverde Best Horseback Riding Tour
Monteverde Horseback Riding Tours, Contact us to provide the best option for you.
Best Options in the area | Stunning views | Healthy horses | The best Horseback rides with the most incredible views
Monteverde Horseback Riding
Package
Tours - Activities -Services
Zip Line Canopy Tours
Monteverde Zip Line Canopy Tours Tours, Contact us to provide the best option for you.
Other Trips